Francis Scott Key Bridge in Washington DC
Key Bridge in Washington DC
---
---
The bridge was built between 1917 and 1923 by the U.S. Army Corps of Engineers. The side which enters into Washington DC is near the site of Francis Scott Key's home (no longer standing, though a small park nearby is named for the composer). Key is the man who wrote the Star Spangled Banner tune, aka the National Anthem of the United States.
Key Bridge was added to the roll of National Registry of Historic Places in March 1996.
Design of Key Bridge
The bridge is designed in the style called "Classical Revival." Design is by architect Nathan Wyeth. Wyeth is famous for designing the very first 'oval office' for President Taft in 1909. Wyeth was also involved in the design of many other buildings around Washington D.C. The engineer for Key Bridge was Max C. Tyler. Tyler was the District engineer for Washington, D.C. during 1919-1923. Tyler lived 1880 to 1974, and is buried at Arlington Cemetery).
The Francis Scott Key Bridge is held aloft by five arches of varying widths: the central arch is 208' wide, two adjacent arches are 204', and the last two are 187' long.
Construction of Key Bridge
Key Bridge is primarily made of concrete and steel. The bridge is 1,701 feet long (518.5 meters). Each arch contains three steel arched pieces which connect the concrete foundation to the upper bridge platform. The 'deck' of the bridge was originally 60 feet wide, but was widened many times over the years to the current width of 90 feet.
(A smaller bridge also known as the Francis Scott Key Bridge is close to Baltimore, Maryland.)
In the snow and ice of winter. Georgetown University looms up beyond the bridge.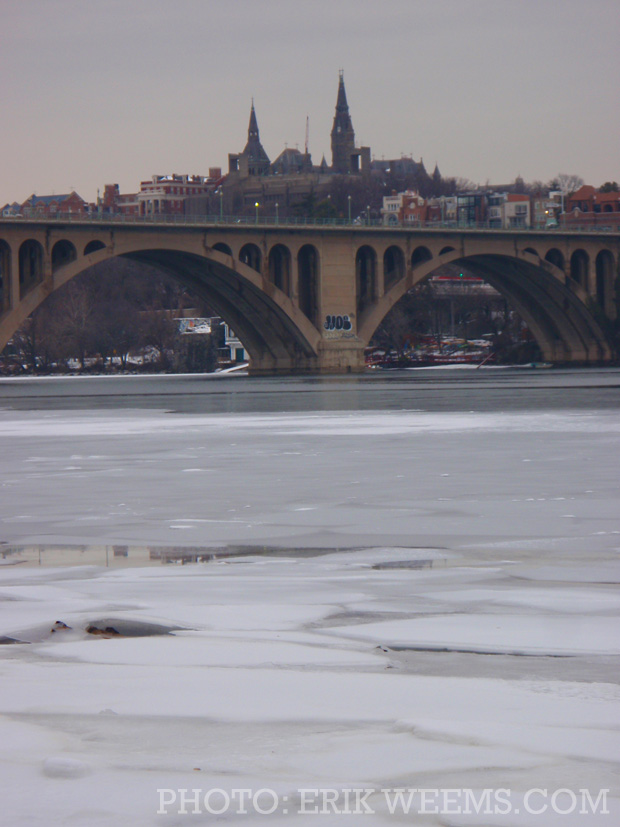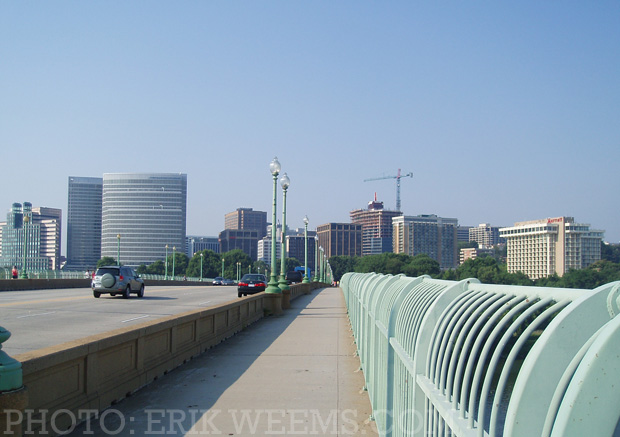 Key Bridge top looking toward Arlington, Virginia side (summer)
---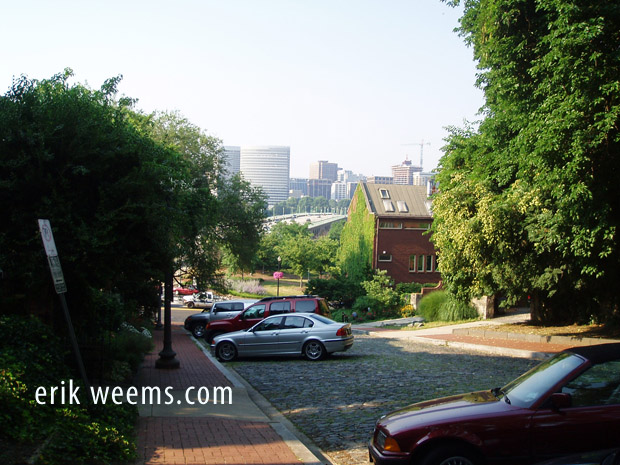 ---
Image below: Looking down the Potomac River from atop the Key Bridge. Note the Georgetown University sculling teams. Roosevelt Island appears on the right side. To the south is the Washington Monument, Lincoln Memorial, etc.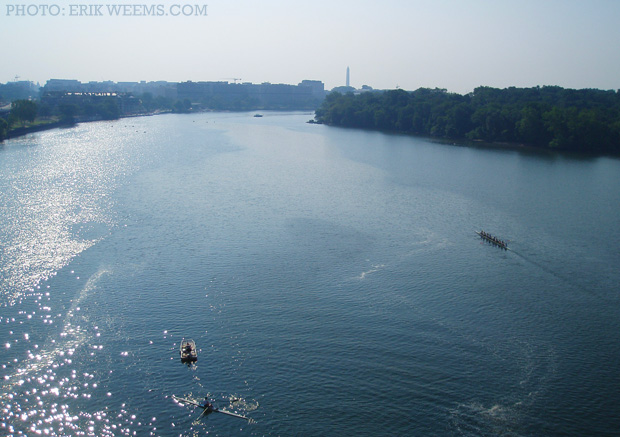 ---
A view of Georgetown University from midway across Key Bridge, Washington DC. See photo enlarged.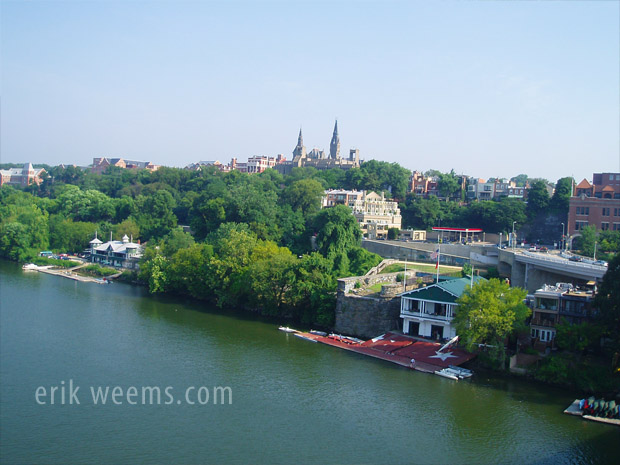 ---
(Image Below) From this angle, you can see Whitehurst Freeway which connects to the Key Bridge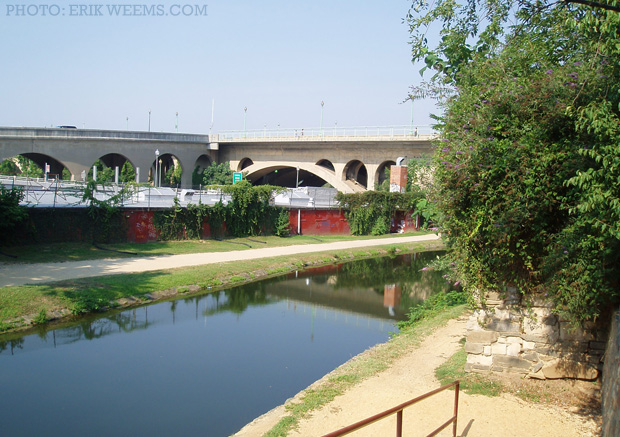 The walkway of Key Bridge entering to Georgetown in Washington DC. The walkway is used extensively by both joggers and commuters from the Virginia side, where the Rosslyn area and a general business district lay.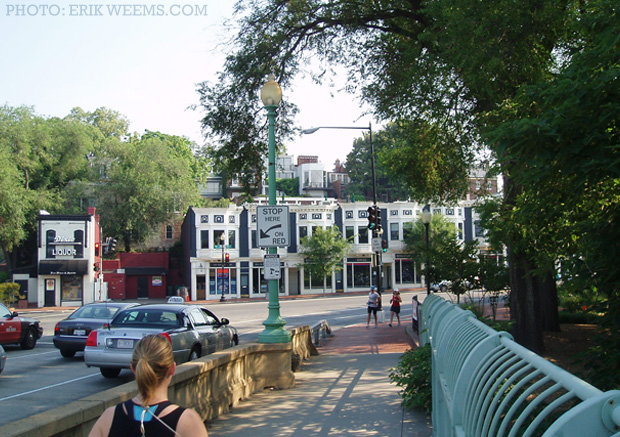 Key Bridge walkway looking back at Arlington, Virginia from the Washington DC side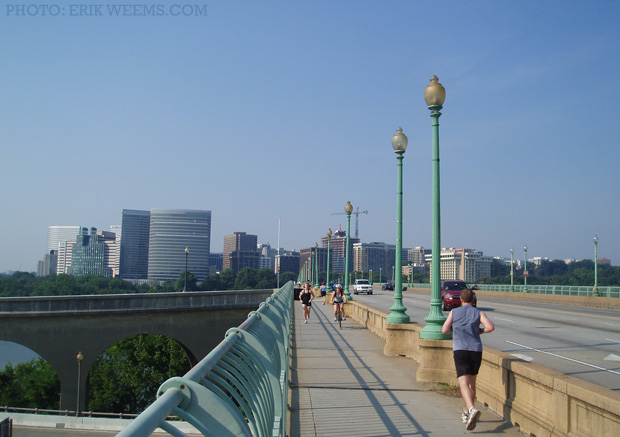 Key Bridge from the side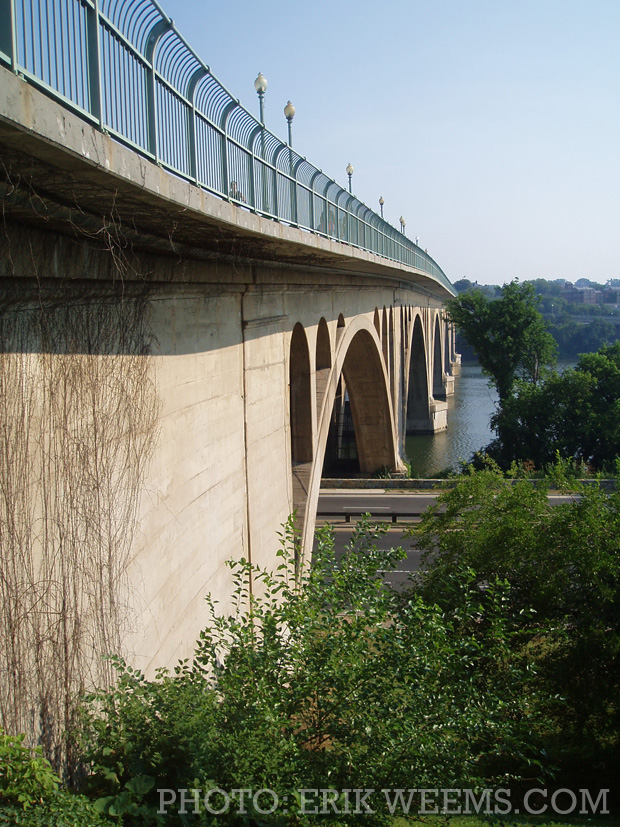 Below: The C & O Canal (Chesapeake and Ohio Canal) running under Key Bridge in Georgetown, Washington DC.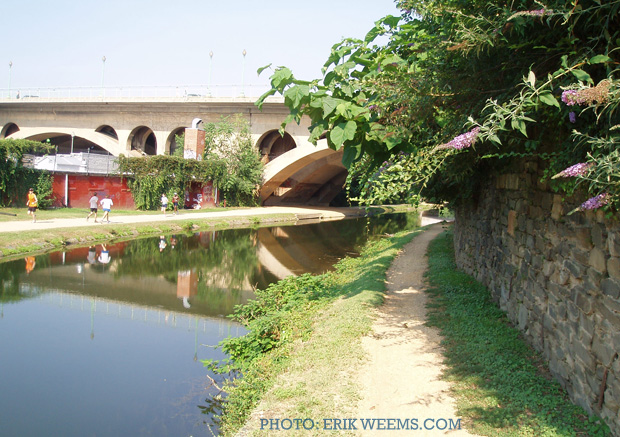 From atop Key Bridge looking to Washington DC along the south of the Potomac: Roosevelt Island, The Kennedy Center, the Washington Monument, etc. Note the airplane in flight: it has just launched from National Airport, aka Ronald Reagen airport.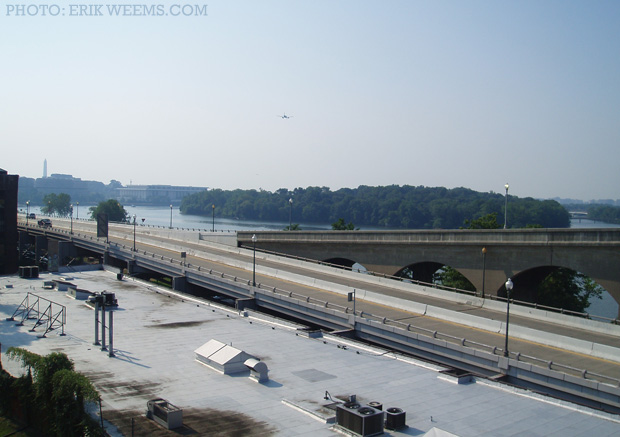 (Below) Key Bridge, winter. Image taken from Roosevelt Island on the Potomac.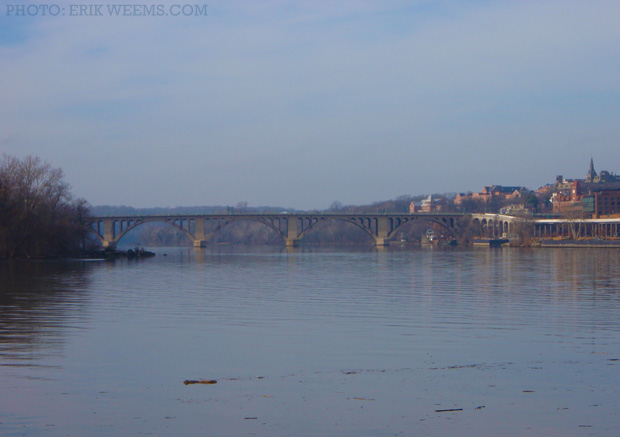 Key Bridge from the George Washington Parkway (Virginia side of the Potomac, summer)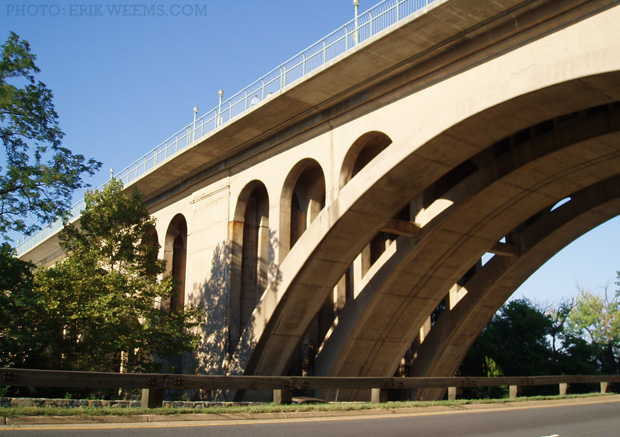 Key Bridge from G.W.Parkway (#2)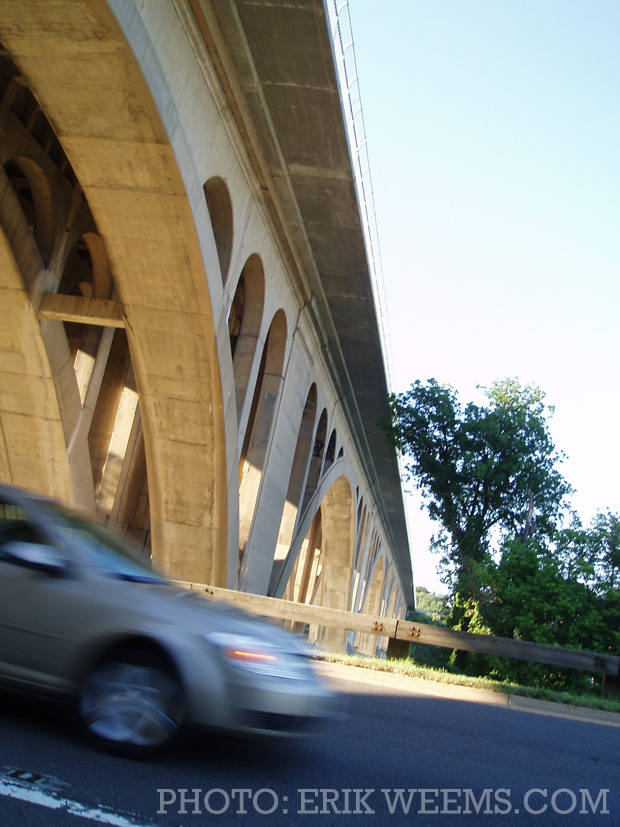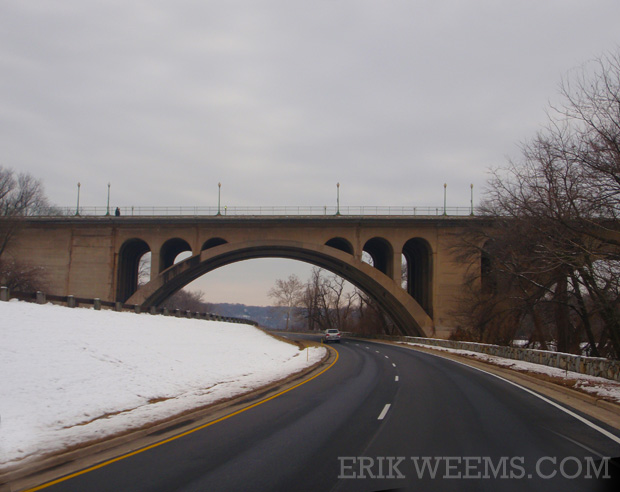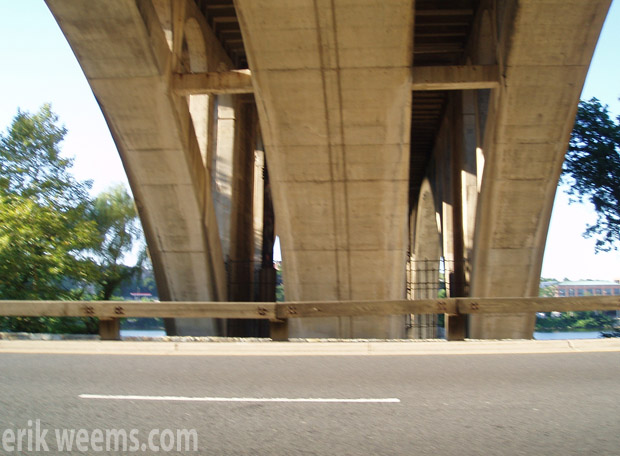 Related Links:
Memorial Bridge in Washington DC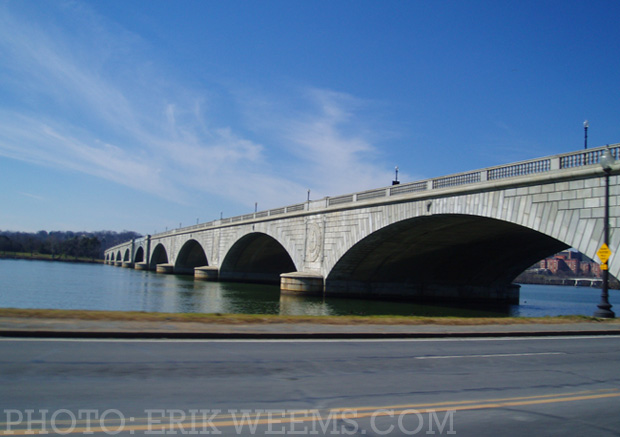 ---
---
Original photos and page 2011
---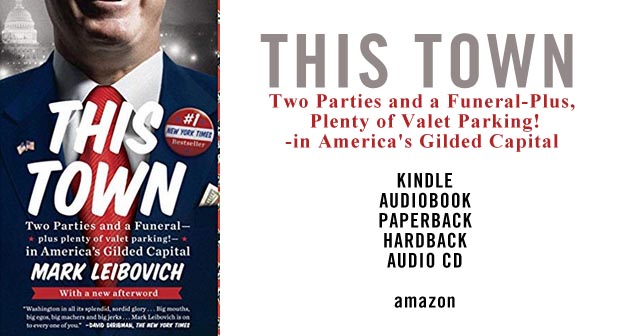 This Town: Two Parties and a Funeral-Plus, Plenty of Valet Parking!-in America's Gilded Capital - AMAZON
---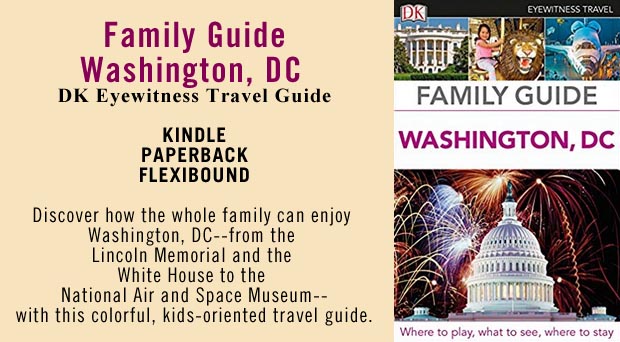 Family Guide Washington, DC (DK Eyewitness Travel Guide)
---
15 Years A Deplorable - A White House Memoir - 2019 Book
---
---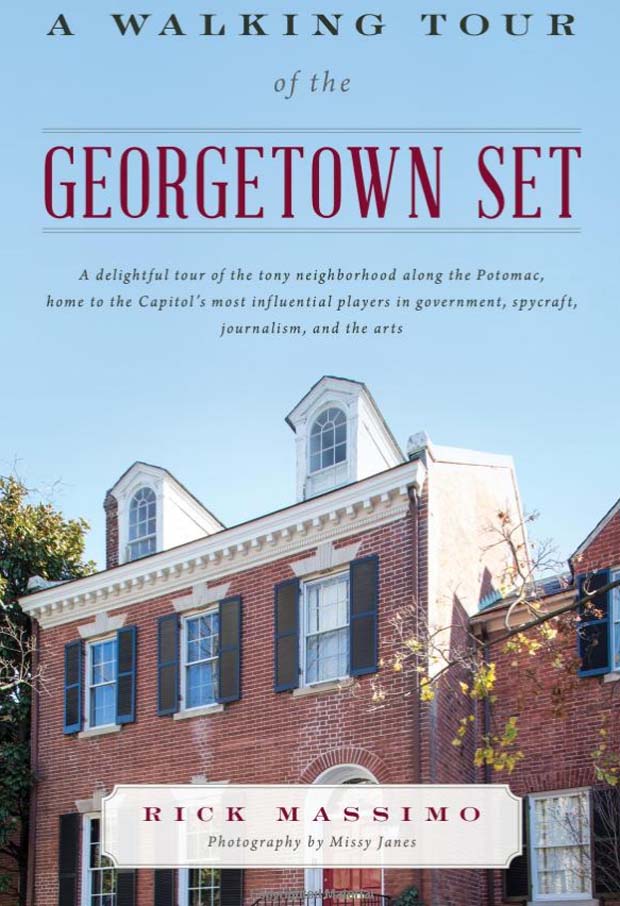 A Walking Tour of the Georgetown Set
---
Photos by Erik Weems - Weems' web site
---