The Living City Washington DC
---
The Capitol of the United States, but a surprisingly "small town" within its borders.
Last Update : Feb 15, 2019
---
Statue of General Comte de Rochambeaum
Lafayette Park at the White House Washington DC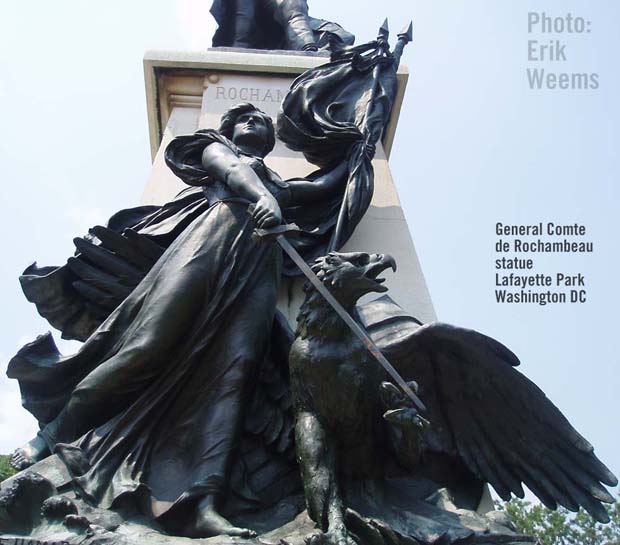 Detail female figure with sword
---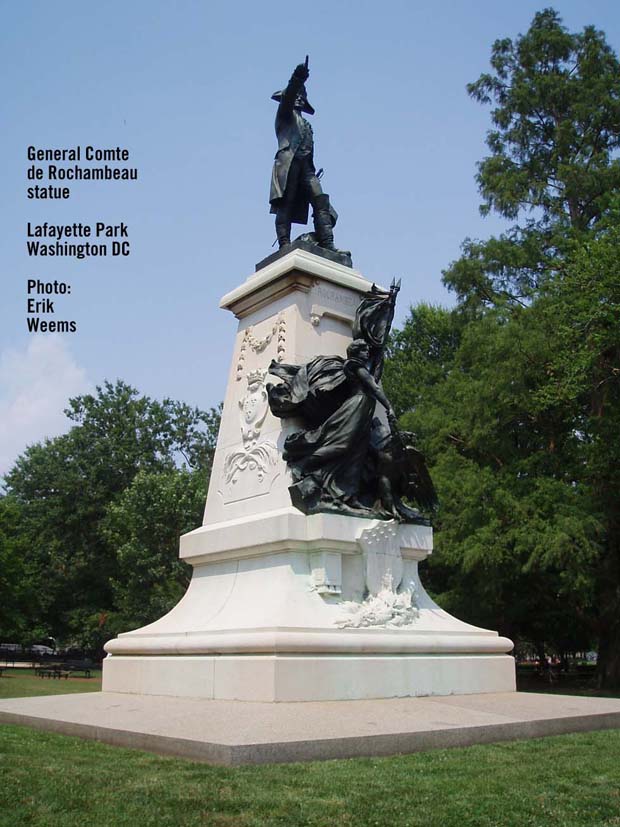 ---
Watergate at night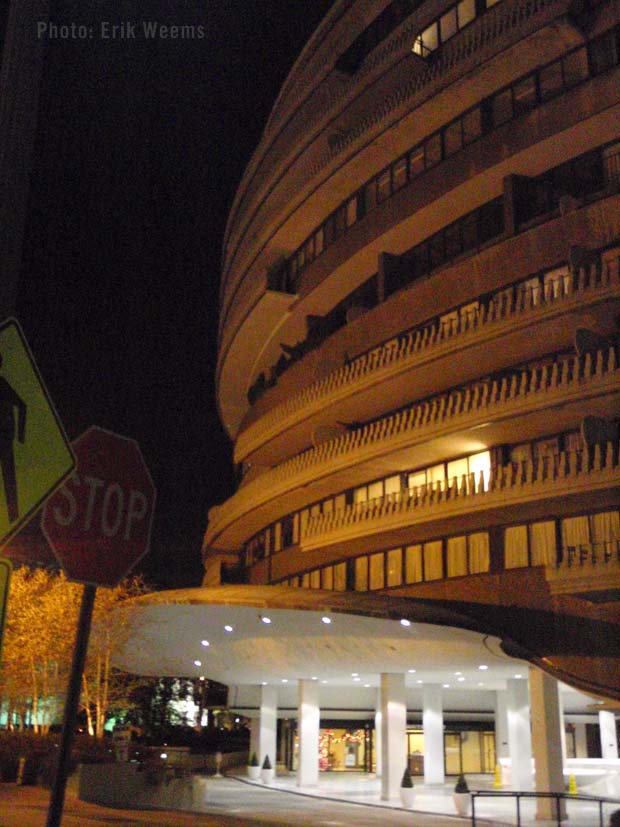 ---
Wisconsin Ave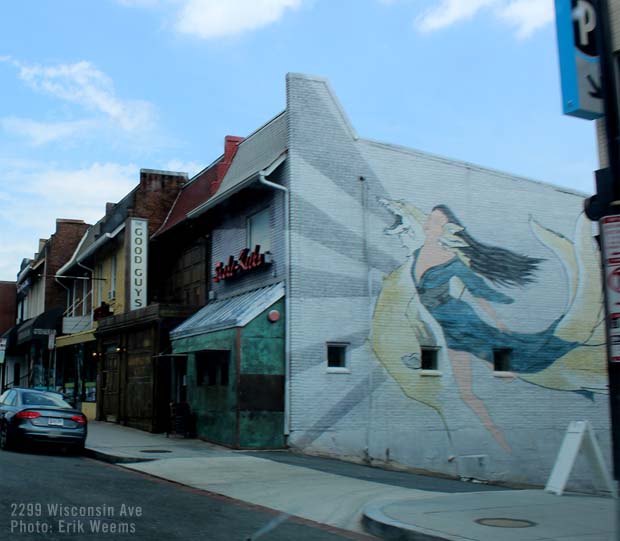 ---
17th and K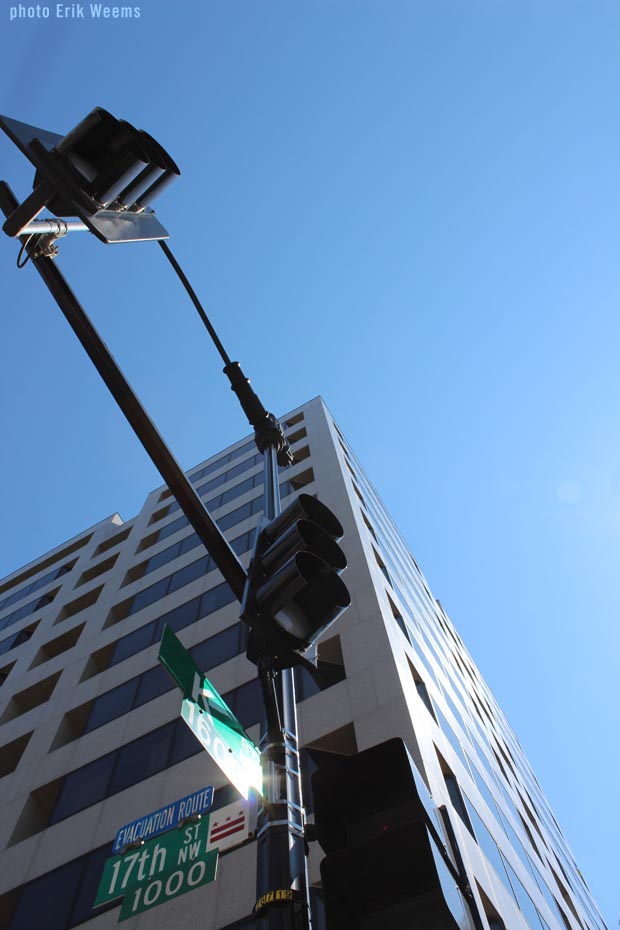 Evacuation Route
---
Snow in DC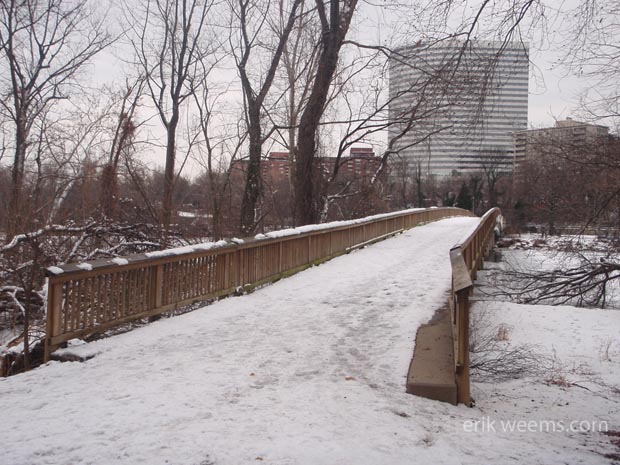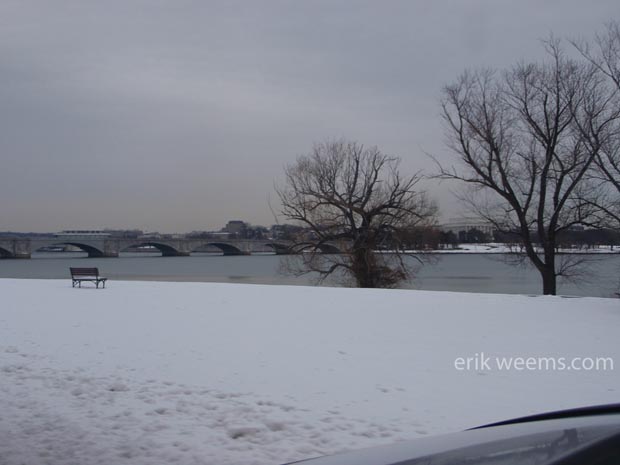 ---
---
Statue and Birds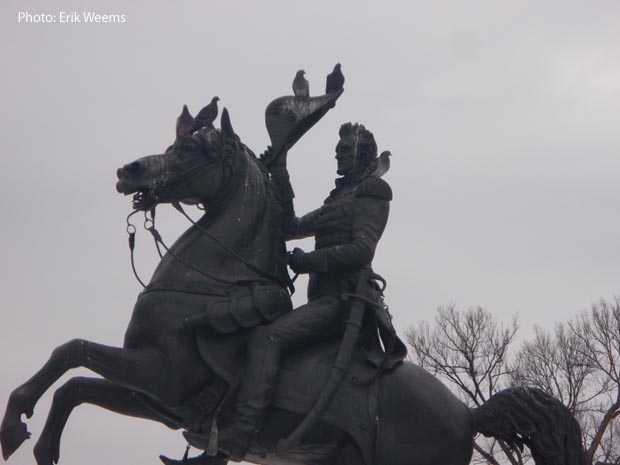 Andrew Jackson statue in Lafayette Park, Washington DC, with bird dung
---
Potomac from Roosevelt Bridge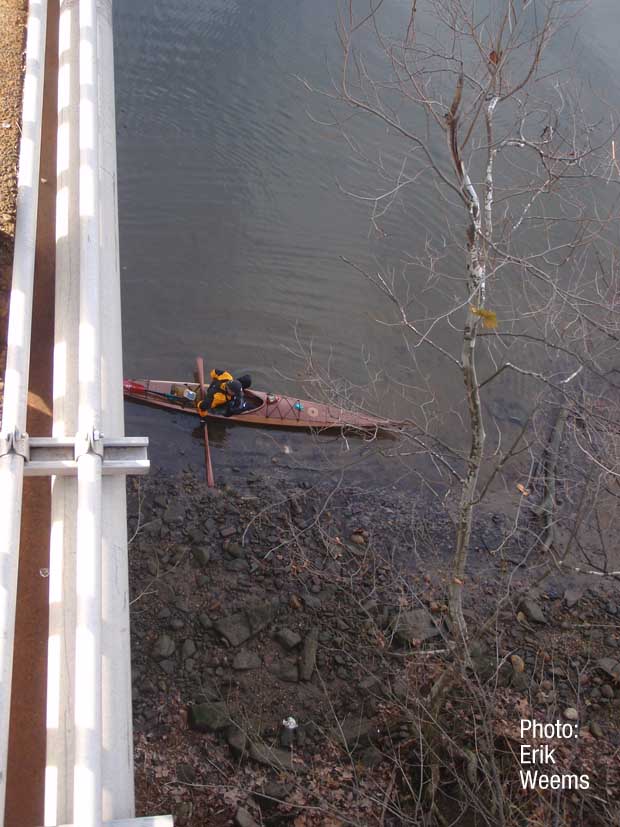 ---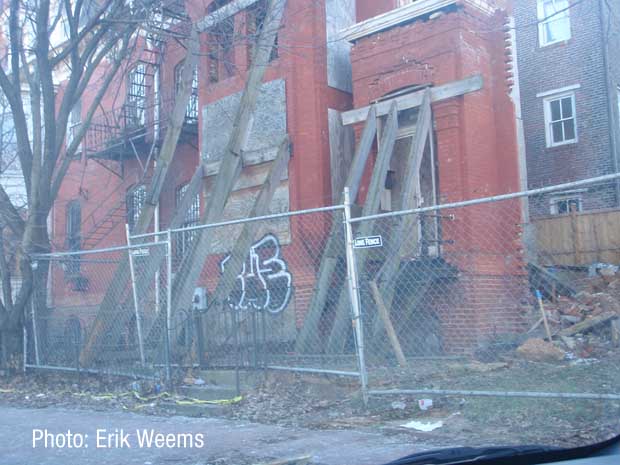 ---
---
Second Story Books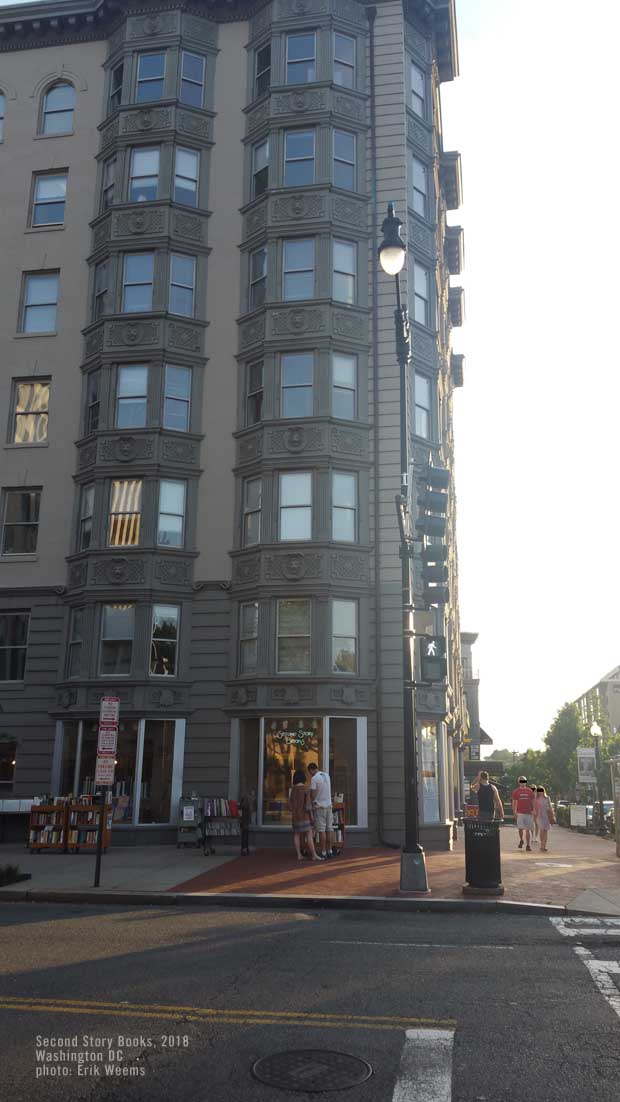 The first time I went into Second Story Books was in 1982. There was a glass bookcase facing the front door full of rare books (it looked to be under lock and key, not that I checked), racks of low priced Dover books, and shelves and shelves of used books. Not that much has changed since then, though there isn't a separated area for Dover anymore, and the valuable rare book cases move around (so does the cash register. Sometimes the register is near the front door and looks barricaded for protection, but my most recent visit, it had moved again and looked more like a miniature version of the register set-up at the Rockville Second Story Books warehouse which features a friendlier, open-air arrangement).
What has changed is the paucity of book stores in DC in general. Crown, Books-A-Million, Ollson's, Borders, Barnes and Noble, and so many other smaller operations and the (at one time) innumerable gift shops that carried a selection of books have either completely disappeared or have been reduced to a fraction of what once was. At one time I could walk from Dupont Circle to Geargetown and hit a dozen different book stores in the process, but no more.
Indicating how much has changed in the decades, consider that there was once a book bindery near Farragut Park, but it has long since departed. The occasional spread of guerrilla sidewalk book sales have also slid into the antique past. For me, Second Story's persistence seems to indicate there is yet a hard core group of customers who want to hold a physical object to read that isn't the ever present 21st century digital device.
---
Cannon House Office Building
Cannon House Office Building
27 Independence Ave., SE. Washington DC 20003
The Cannon Office Building is named after the Speaker of the House, Speaker Joseph Gurney Cannon (1836-1926). The building was originally simply titled "House Office Building." It was built between 1905 and 1908, with additions made in 1913 and a renovation in 1932.
Speaker Joseph Cannon was one of the members of Congress who fought against the Lincoln Memorial being placed so near the Potomac River (in an area that was then known only as West Potomac Park) because it was still quite swampy and malaria from mosquitos was a very real fear. It was during this time period that the remaining swamp areas (approximate to where the Roosevelt Bridge is today,) were being drained and filled in. At that time, these spaces were considered remote and still wild.
John Carrére was the lead designer on the Cannon Building, and heavily utilized Vermont Marble. It is classified as being the the Beaux-arts style and is the more lauded design compared to the neighboring Longworth and Rayburn buildings.
---
Escalator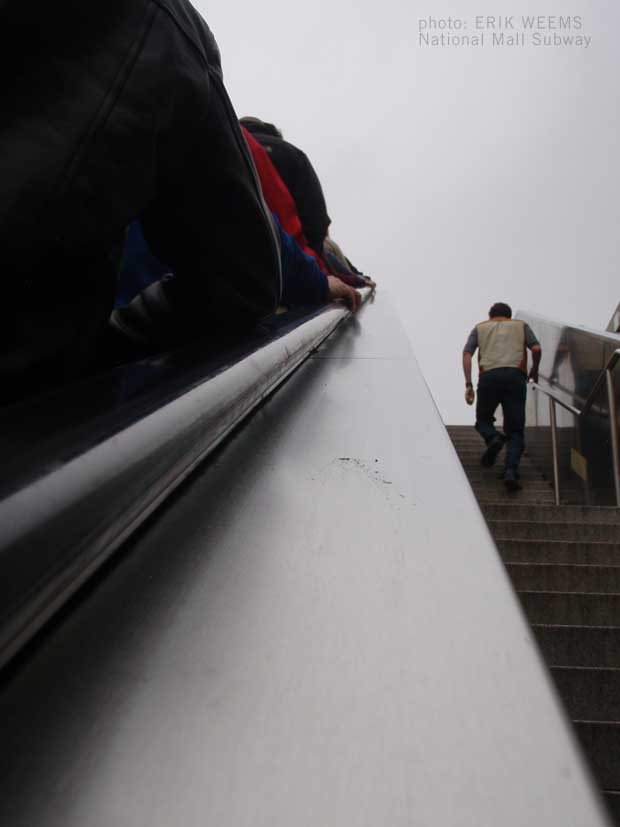 National Mall Metro
---
Inside the Renwick Gallery 2008
July 2008
---

---
---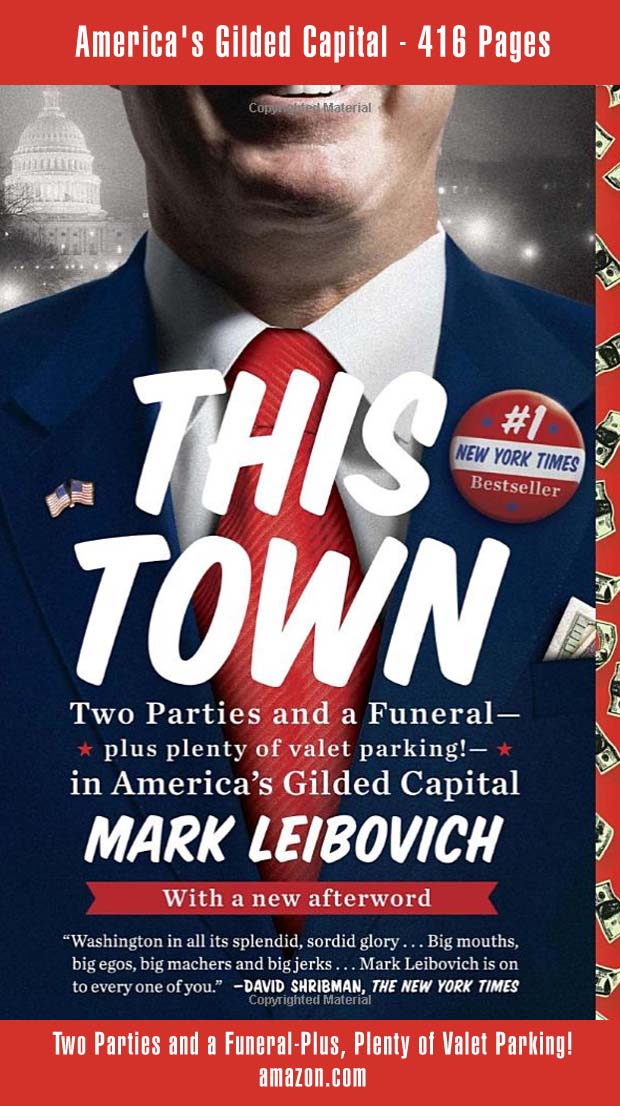 This Town: Two Parties and a Funeral-Plus, Plenty of Valet Parking!-in America's Gilded Capital
---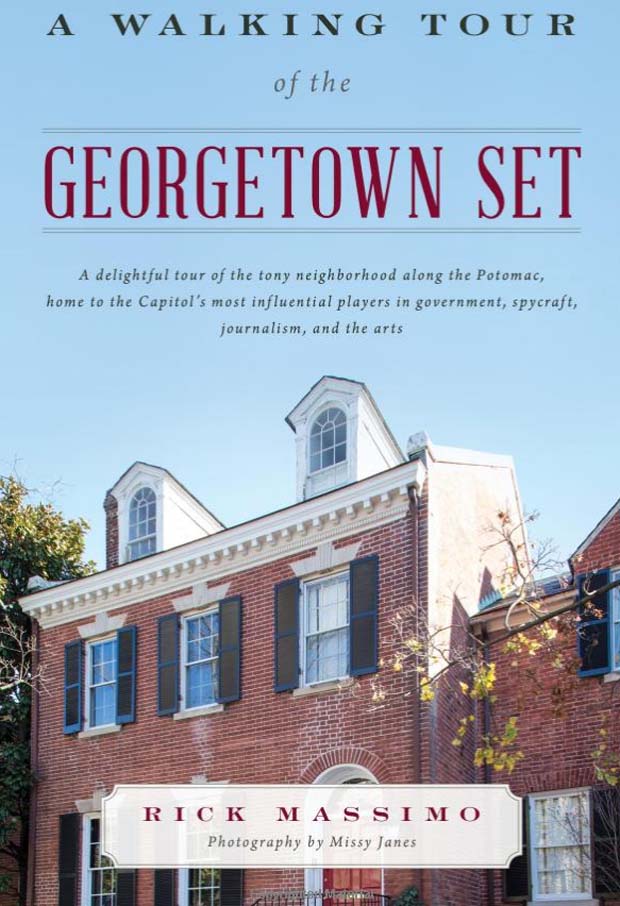 A Walking Tour of the Georgetown Set
---
Photos by Erik Weems - web site
---