Bookstores in Washington DC
Past and Present
---
Second Story Books at Dupont Circle
---
Circa 1999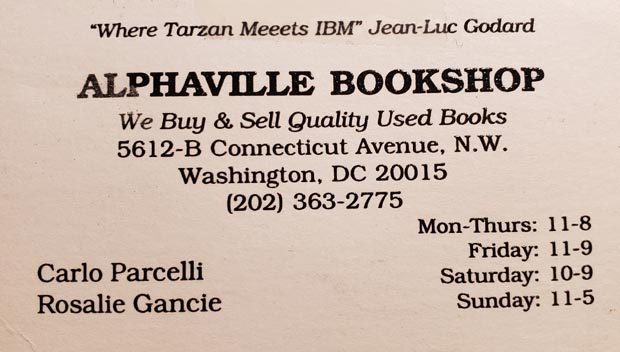 Alphaville Bookshop
5612-B Connecticut Avenue, N.W.
Washington DC 20015
"Where Tarzan meets IBM"
---
---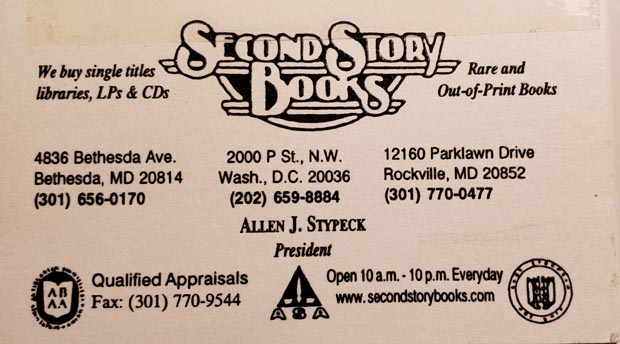 Second Story Books
2000 P St., NW.
Washington DC 20036
Second Story Books
4836 Bethesda Ave.
Bethesda, MD 20814
Second Story Books
12160 Parklawn Drive
Rockville, MD 20852
---
Circa 1992
Worlds of Wonder
1229 34th ST NW
Washington DC 20007
Another World
1504 Wisconsin AVE N
Washington DC 20007
Bryn Mawr Bookshop
3222 0 ST NW
Washington DC 20007
Booked Up
1209 31st
Washington DC 20007
Video Vault
1015 Wisconsin AVE NW
Washington DC 20007
Aberdeen Book Shop
3034 M ST NW
Washington DC 20007
Revolutionary Books
1815 Adams Mill RD NW
Washington DC 20009
Idle Time Books
2410 18TH ST NW
Washington DC 20009
Yesterday's Books
4702 WISCONSIN AVE NW
Washington DC 20016
Lamma's Book Store
1426 21ST ST NW
Washington DC 20036
---
---
1984 Second Story Books listing
"Rare, Used & Out of Print Books, Small Press Titles & Custom Binding, Qualified Appraisals, Free Search Service
We Buy Single Titles and Libraries
FULL TIME BUYER AVAILABLE FOR HOUSE CALLS
WE ALSO BUY LP'S - JAZZ & CLASSICAL
DUPONT CIRCLE
2000 P Street N.W.
659-8884
10 to 10 Everyday
GEORGETOWN
3236 P Street N.W.
338-6860
10 to 10 Everyday
BETHESDA
7730 Old Georgetown Rd.
656-0170
10 to 10 Everyday
BALTIMORE
3322 Greenmount Ave
467-4344
10 to 10 Everyday
---
Circa 1982 – 2007
Franz Bader Bookstore (and art gallery)
2001 Eye Street NW
Washington DC 20006
One of the particular qualities of the Franz Bader shop was that it included imported books from publishers outside of the United States. This was important in the pre-internet age for the art student or professional as artists who were given little attention in the United States were otherwise assessible at Franz Bader, opening up a whole world of information and chance introductions to unknown artists, a valuable experience for the enterprising art aficionado.
The Franz Bader bookshop moved around DC (for a history see the Baderfund.com page) during its 54 years of existence (it originally opened in 1953). Addresses it also occupied were 1705 G Street, NW; 2001 Eye Street, NW; 1701 Pennsylvania Avenue;, 1500 K Street; and 1911 Eye Street, NW, where it finally closed in 2007.
---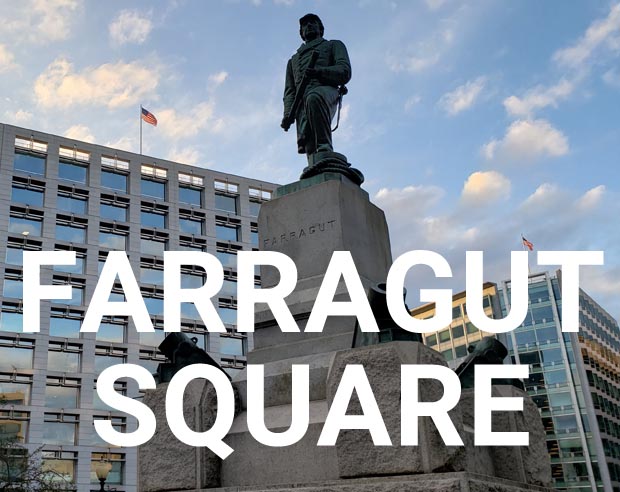 ---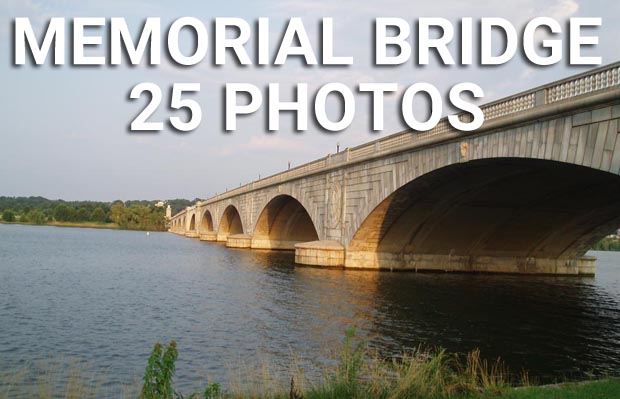 ---
---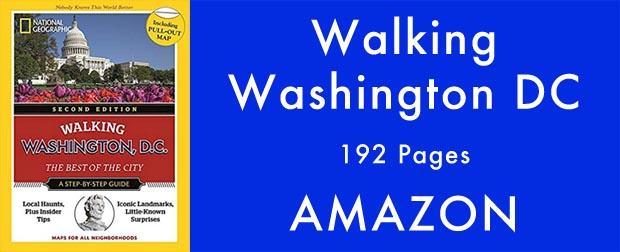 National Geographic Walking Washington – Amazon
---
Amazon Shopping Links
A History Lover's Guide to Washington, D.C.: Designed for Democracy (History & Guide)
Kids' Travel Guide - Washington, DC: The fun way to discover Washington, DC with special activities for kids, coloring pages, fun fact and more! (Kids' Travel Guide series) - Amazon
---
Original page March 2020 | Updated March 2021